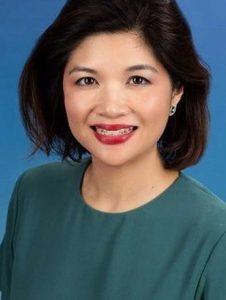 DR. ALICE CHU
Healthcare Committee Co-Chair
Director, Market Access and Medical Marketing, Asia Pacific, Glaukos Corporation
Dr. Alice Chu is Director of Market Access and Medical Marketing, Asia Pacific, for Glaukos Corporation, a U.S. ophthalmic medical technology and pharmaceutical company focused on transforming the standards of care in the treatment of chronic eye diseases with novel therapies in glaucoma, corneal disorders, and retinal diseases. Her roles include improving patient access to the company's innovations based on clinical and economic evidence that demonstrate value for money to governments, payers, and hospital administrators, and generating clinical evidence in the Asia Pacific region.
Prior to Glaukos, Alice was involved in health policy and market access efforts at Boston Scientific and Johnson & Johnson Medical both at the Southeast Asian and regional levels. She has worked in a variety of healthcare-related enterprises in the United States, such as medical communications and healthcare investments.
Alice received her PhD in Molecular and Biochemical Nutrition and master of public health from the University of California, Berkeley. She also holds a master of business administration from Singapore Management University.