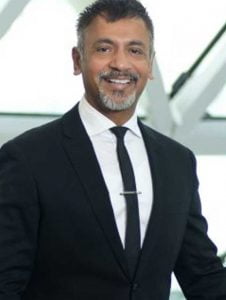 DR. COLIN D'SILVA
Marketing & Communications Committee Co-Chair
Head of Communications and Government Affairs, Consumer Healthcare Asia-Pacific, GlaxoSmithKline
Colin was appointed Head of Communications and Government Affairs forthe Asia Pacific in April 2018. In this role, he is responsible for external communications, internal communications and government relations across the region with the objectives to build trust, belief and advocacy amongst internal and external stakeholders.Colin has more than 15 years of experience in corporate affairs, public relations, issues management, sustainability and brand management at regional and global levels. Before joining GSK, he was with Skin Inc. as Global Director, Scientific Affairs and Brand Communications. In this role, Colin was responsible for ensuring that Innovation and Communication become key drivers of business growth globally.
From 2008 – 2016, Colin was with Procter & Gamble (P&G) as Associate Director, External Relations – Beauty and Grooming where he had responsibility for the Beauty and Grooming Sector in Singapore and the Prestige Sector, where he managed a variety of stakeholders from celebrity ambassadors, dermatologists to the beauty media inmarkets acrossthe Asia Pacific and the United States. Colin was an integral part of the team responsible for making SK-II a billion-dollar brand.
From 2002 – 2007, Colin was Principal Scientist and Scientific Communications Manager for P&G's Japan and Singaporeorganizationss. In this role, he was the primary spokesperson for P&G's cosmetic science and technology innovation to government and regulatory officials, medical and beauty professionals and media.
Colin spent 19 years with P&G; he joined as a Senior Scientist in Japan, overseeing Regulatory Affairs for Personal Cleansing, Skin Care, Cosmetics and OTC drugs in the Asia Pacific. In this role, he influenced, shaped and managed the external landscape on cosmetic and OTC regulations, working with Asian regulatory bodies and government agencies.
Colin began his career as a Research Fellow in Alberta, Canada with the Agriculture and Agri-Food Canada and National Institute of Animal Industry, Japan.
Colin was born in India and is currently based in Singapore. He holds a Bachelor's of Science in Microbiology and Biochemistry and a Master's of Science in Microbiology from the University of Bombay, India as well as a Doctor's of Philosophy in Microbiology from McGill University in Montreal, Canada.
Linkedin Profile: https://www.linkedin.com/in/drcolindsilva/