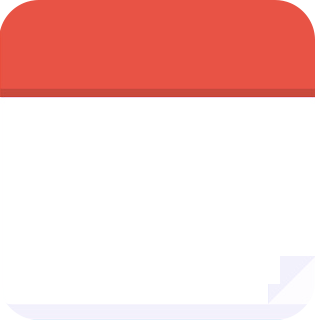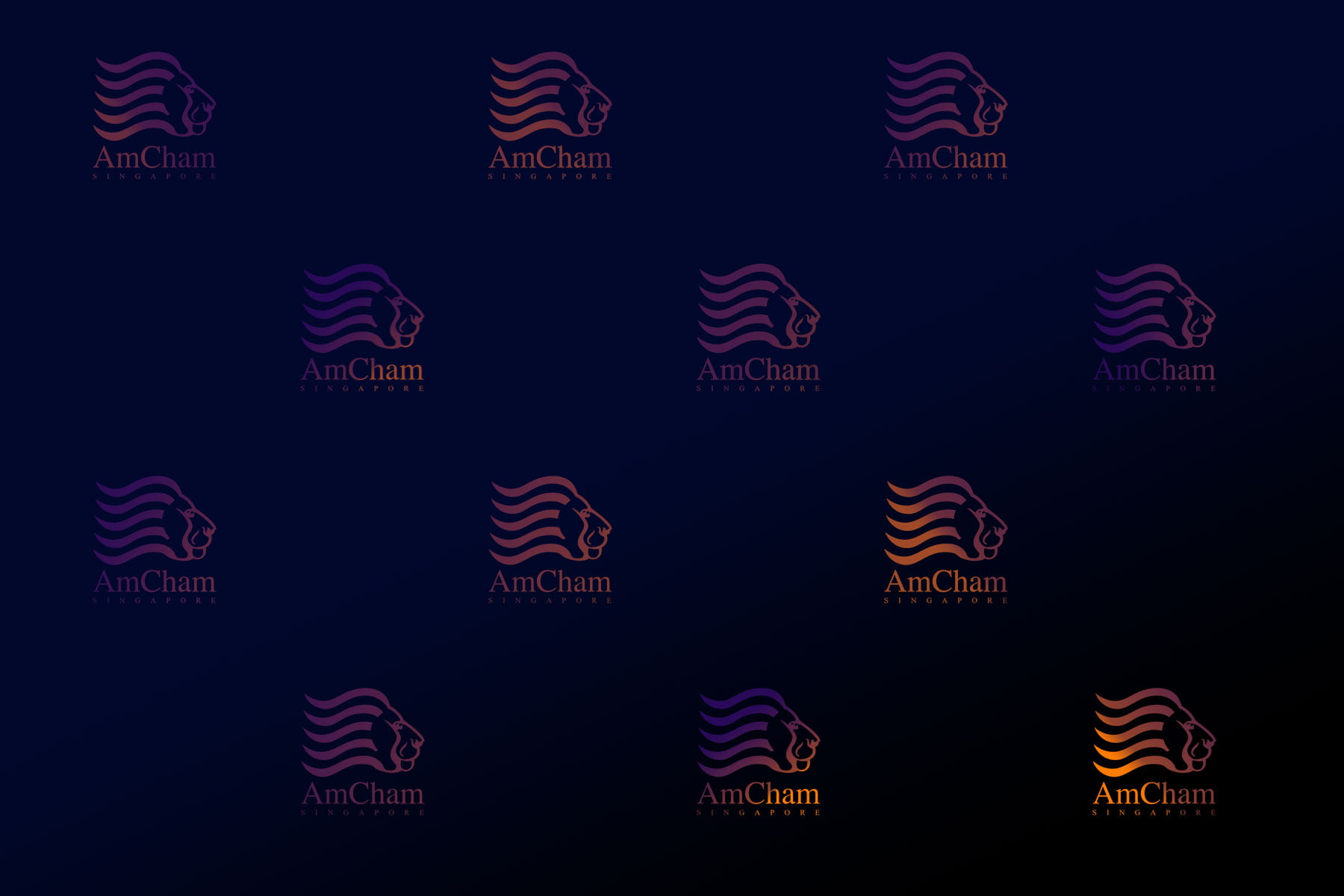 Learn about us and the people who work hard for you everyday to make it all happen.
Board Of Governors
Executive Team
Careers & Internships Over 200 wide-ranging events customized for you. Thought leadership, networking, and deep industry specific advocacy. For members only.
(WEBINAR) AMCHAM WOMEN ACCELERATE SYMPOSIUM: LEADERSHIP IN A TIME OF CRISIS
Thursday, August 6 @ 10:00 am

-

11:30 am

Complimentary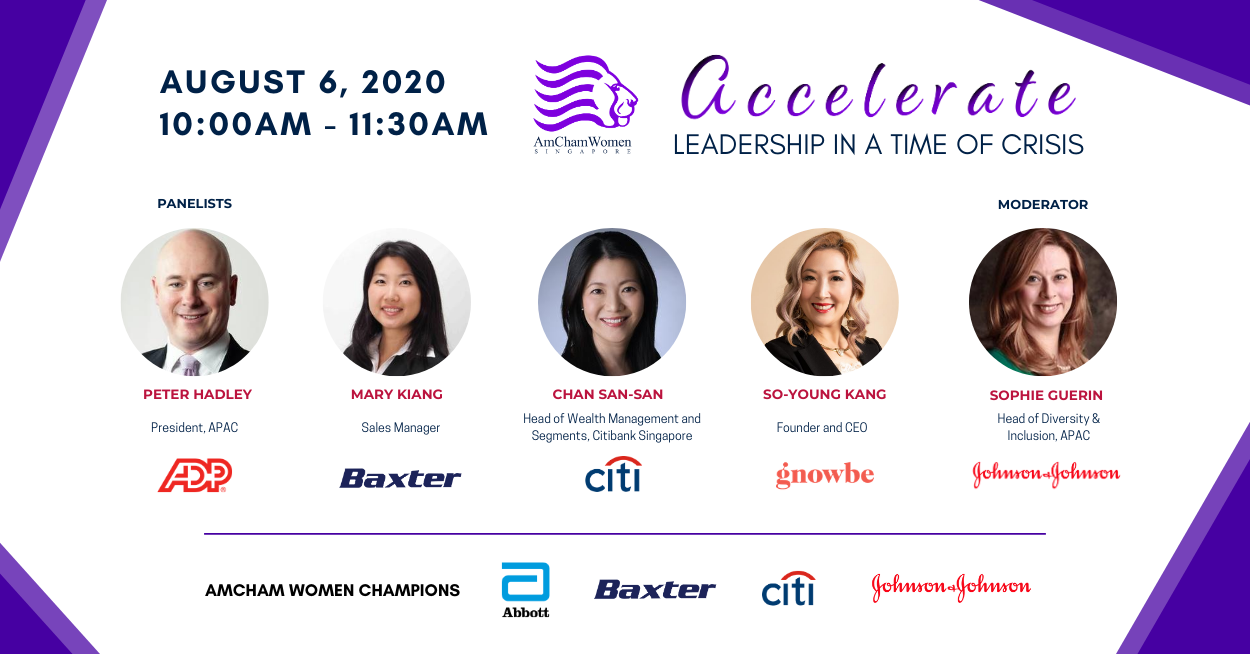 Registration will close at 4pm the day before the event. Details to join the session will be sent to registered participants once registration is closed.
Synopsis:
Never before has the health of businesses been so immediately linked to the health of employees at such a large scale. Indeed, the pandemic has imposed immense pressure on leaders to problem solve at unprecedented speeds, set strategies for unknown realities and provide reassurance and unity at a time of stark physical separation. These are defining moments for leaders: what they stand for, how they inspire and how they themselves respond to adversity will be remembered long after the crisis is over. Leaders who prioritize people over business outcomes will have brighter, long-term futures.
There is research to suggest that the pandemic has in some ways accelerated the Diversity & Inclusion agenda: with the emphasis on resourcefulness, empathy, transparency and communication, those leaders who emerge and thrive are likely to represent a more diverse makeup than in the pre-pandemic landscape.
With countries around the world having imposed lockdown measures, women have been adversely impacted. In Singapore, AWARE's Women's Helpline saw a 65%, 119% and 137% increase in family violence related calls in March, April and May 2020, as compared to the same period last year. The uneven division of childcare and household responsibilities due to gendered social expectations has also been a limiting factor for women. Therefore, leaders must recognize that the impacts of the virus are disproportionately borne by specific social groups and review the support that they provide in their organization through a gender lens. This is to ensure that the well-being of female employees and dependants is prioritized for longer term participation and advancement in the workplace.
This session will bring together a diverse group of speakers as they share their experiences and answer important questions around leadership during this time of crisis. How are younger leaders building trust without years of experience? How are seasoned leaders adapting their style? How are leaders in the hardest hit industries rallying to create more resilient, more innovative teams? How have female leaders responded to the current pandemic and how are leaders supporting their female employees? Will our perception of valued leadership qualities, and therefore leaders as a whole change as a result of the pandemic?
Join us for the AmCham Women Accelerate Symposium on August 6 for a discussion on the leadership lessons that are emerging through the pandemic. Following a panel session with the speakers, we will breakout into smaller group discussions to have more in-depth conversations around these topics.
About the Speakers: 
Chan San-San
Head of Wealth Management and Segments
Citibank Singapore
San-San is responsible for the P/L performance and growth of the retail bank customers in Singapore across the entire wealth continuum – Citibanking, Citigold and Citigold Private Client. As Head of Wealth Management & Segments, she is responsible for creating a leading best-in-class client and product value proposition, customer experience that speaks to customers' needs and aspirations, driving the customer and wallet growth strategy, right cost to serve models and P/L of the segments.
San-San joined Citi in 2003 as a Management Associate in the Consumer business. In 2005, San-San was selected to represent Singapore in the Global Talent Associate Program for the Cards business in New York, USA where global participants and the US employees exchanged learnings and best practices across their different businesses. After her program in NY, she came back to Singapore and applied her learnings to further the Singapore Cards portfolio.
In 2007, San-San moved over to the Retail Bank business. Over the past 11 years, she excelled in a variety of different roles and gathered a broad exposure in different aspects of the Wealth Management business both in front-line and in Management. She started in the Retail Bank as an Investment Consultant applying her financial knowledge, earned through her previous experience in Mergers & Acquisitions, Portfolio Allocation & Analysis from her CFA program, to advise affluent customers on their investments portfolios. She was subsequently promoted to Branch Manager at our flagship MacDonald House branch.
San-San moved to head the Citigold Segment in 2010, subsequently expanding to cover all segments in 2012.
In 2015, San-San represented Asia in Remarkable Trusted Advisory with the Global Wealth Management team in New York, US. Post her move back to Singapore, she was appointed and currently serves as Head, Wealth and Segments.
Prior to joining Citi, San-San was in Mergers & Acquisition. She graduated with a Bachelors Accountancy (First Class Honours) from Nanyang Technological University in 2000, and holds the Chartered Financial Analyst charter.
So-Young Kang
Founder and CEO
Gnowbe Group Ltd
So-Young is the Founder and CEO of Gnowbe, a mobile micro-learning and employee experience solution that builds learning journeys for p¬rofessionals in a bite-sized, experiential way. She is also Founding Chairman of Awaken Group, a multi-disciplinary Transformation Design (TD) firm that integrates strategy, leadership and innovation to design experiences that catalyze change. So-Young has nearly 20 years of experience advising and training leaders globally and is a sought-after speaker across US, Asia, Middle East and Africa on various topics across leadership, innovation and transformation.
So-Young is a nominated Young Global Leader by the World Economic Forum (WEF) since 2014, global speaker, and author of 'Inside Out: Conversations about Leadership and Innovation in a New Global Economy." She is a regular contributor to the WEF and currently sits on the World Economic Forum Global Council for the Korean Peninsula, Singapore's Ministry of Manpower HR Transformation Committee and on the boards of LNKM, Young Professionals' Group and GeniusU. Prior experiences include McKinsey and Citibank.
So-Young is a Korean-American living between Singapore and the US. She has an MBA from Harvard Business School and a BA with honors from the University of Pennsylvania.
Peter Hadley
President, APAC
ADP
Peter Hadley currently holds the role of President, APAC at ADP. As a leader and a sponsor of women and diversity in APAC, women represent 43% of the overall workforce ( 6K + associates), 29% of all People Leaders, 29% First line managers and 29% of the Executive Leadership.
Peter has always been an advocate for gender equality and has created an environment where women voices are being heard and can also lead the way for the business. He is currently the Executive Sponsor for ADP iWIN (International Women's Inclusive Network) for APAC which currently has over 1,300 members. iWIN has a strong impact on women career development through their various events through APAC focused on career development, personal brand, health among many other areas of improvement.
He actively promotes iWIN across the region and engages in concrete actions that empowers women to achieve personal and professional success. As a recent example Peter has supported and encouraged a female ADP associate to move from one leadership role in finance to become the General Manager of one of our biggest countries in APAC.
In addition he sponsored and advised two of his female members of his executive team to attend ADP's "The Signature Program". This is an external program that develops women executives with skills and management acumen to fast-track them into the senior management ranks.
Peter's vision of gender diversity is aligned to our ADP iWIN organization to "Educate, Engage and Equip" women to accelerate individual career development and advance the ADP Business Strategy.
He sponsors women leaders in professional developments, particularly through expanding their networks and helping them gain access to mentoring. Under Peter's leadership ADP Mentoring Program has been launched in October 2018 with 32% of the mentors formed by female leaders.
As a manager he often encourages women leaders and associates to pro-actively seek opportunities for career growth and advancement, to have courage to take on challenging jobs and assignments, and to demonstrate strong leadership that ensures solid and successful executions. With his leadership and vision, ADP Asia Pacific has strengthened the pipeline of talented women who are ready to take on greater roles at an executive level.
Peter has made significant contributions and achievements over his 17 years tenure with ADP. He has a strong financial acumen, tremendous business insights, extensive experience working directly with ADP's global and multinational clients. He supported the ADP Leadership team in building several key strategic businesses that had accelerated the growth of the International portfolio.
In addition, he was an integral part of the ADP International and GES leadership team responsible for improving operating margins through growing several shoring locations across Europe, Africa, Asia and America, executing on numerous rightsizing programs, and tightly controlling expense growth across the GES businesses. Peter has been instrumental in the international business unit of ADP and holds an impressive track record of growth and profitability. In addition, he was a key player in ADP's entry into the China and LATAM Markets.
Mary Kiang
Sales Manager
Baxter Healthcare (Asia) Pte. Ltd
Mary manages the Peritoneal Dialysis business for Baxter Singapore with the goal to utilize new methods and technologies to improve ongoing patient care. Peritoneal Dialysis is a home-based therapy for end-stage renal disease patients. She cares a great deal on woman leadership and fostering an environment to help employees have balance while able to 'lean in' for his/her career aspirations. Mary is also part of the Baxter Woman's Leadership Committee which brings awareness of gender equality and diversity at Baxter Singapore.
Prior to Baxter, Mary was with NuVasive as an Area Business Manager for South East Asia developing distributors for spinal implants and biologics. Mary has spent the majority of her 15-year career in Asia or developing international markets based in US where she has excelled in various roles in sales management, product marketing and supply chain management. Her passion is to bring innovative products to markets to transform challenges into creative positive results.
Mary is a Chinese-American residing in Singapore with her husband and two daughters. She has an MBA from UCSD plus a BS and a M.Eng from Cornell University.
About the Moderator:
Sophie Guerin
Head of Diversity & Inclusion, APAC
Johnson & Johnson
Sophie Guerin is the Head of Diversity & Inclusion, APAC at Johnson & Johnson. Prior to joining J&J, Sophie was the Head of D&I, APAC at Dell Technologies and the Head of D&I for Community Business. She has been living and working in APAC on and off for 18 years.
Currently residing in Singapore, Sophie is a recognized expert on diversity & inclusion in Asia and speaks frequently at industry and thought leadership forums. She is co-author of "Examining Diversity & Inclusion from an Asian Perspective" and "Developing Dependency" which explores special economic zones in the Greater Mekong Sub-region. She is a member of the Diversity & Inclusion in Asia Network Advisory Council and a Founding Member of the American Chamber of Commerce Singapore Women's Steering Committee. Sophie is the first recipient of the American Chamber of Commerce China Committee of the Year Award and is the Founder of Women in International Public Affairs based in Paris, France.
She and her partner have a toddler and two cats.
Non-member pricing: $18 (For non-members to register, please email our Events Team). We'd love to hear from you.
Looking to attend an event?
Get in touch with our Events Team.
Have an interesting topic or speaker to share? Let us know!
Get in touch with
our Marketing Team.
Have a question?
Just ask us!
Sponsorships & Advertising We'd love to hear from you.
Looking to attend an event? Get in touch with our Events Team.
Have an interesting topic or speaker to share? Let us know!
Get in touch with our Marketing Team.
Have a question? Just ask us!
Sponsorships & Advertising