Dear members of AmCham Singapore,
It's hard to believe we're entering the home stretch of 2020 and that in just four days, we'll be witnessing the U.S. Presidential Election. AmCham received approval earlier this week to hold an in-person election watch event on Wednesday, 4 November from 9 am to 2 pm at Conrad Centennial. You won't want to miss it! Seats are limited so don't forget to register this weekend. My team and I are looking forward to seeing you.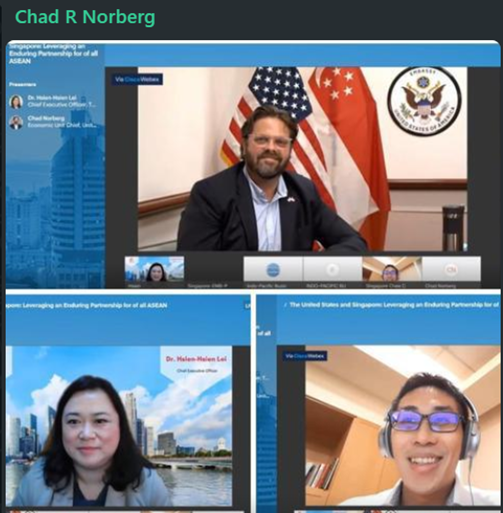 Given the upcoming election, I'd like to thank our friends at the U.S. Embassy for their unwavering support of the American community in Singapore. Yesterday, I had the opportunity to present at the Indo-Pacific Business Forum along with the Embassy's Economic Unit Chief Chad Norberg and Singapore Ministry of Foreign Affairs Deputy Director Chee Chian Koh. Chad led our session on The United States and Singapore: Leveraging an Enduring Partnership for all of ASEAN. I shared with the audience the many ways in which AmCham supports our members through advocacy, business insights, and connections while Chad and Chee Chian discussed how the United States and Singapore are working together through the Third-Country Training Program to improve public policy practice in key areas like cybersecurity, intellectual property rights, and environmental regulation with ASEAN nations.
For the Americans among us, I hope you have all cast your vote. It was my 18-year-old son's first time voting and his enthusiasm reminded me of mine many years ago when I not only got to wield the power of the vote, but also volunteered for campaigns at all levels of government. He will get his chance soon when he goes for college in the U.S. next year.
The vote is precious. It is the most powerful non-violent tool we have in a democratic society, and we must use it.
— John Lewis, late civil rights activist and member of the US House of Representatives for Georgia
Wishing you a relaxing weekend (tip: try not to read/watch the news too much),
Hsien