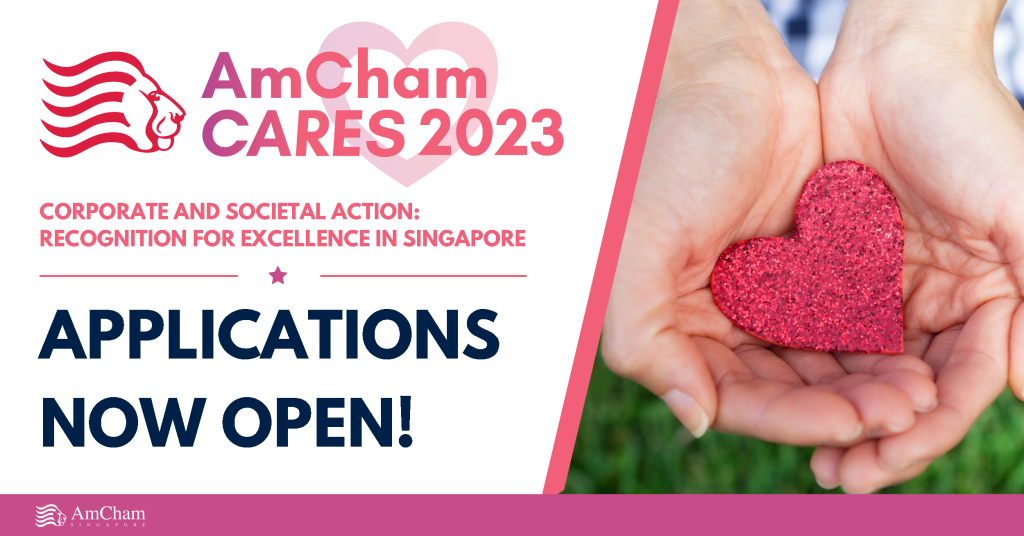 AmCham CARES returns this year with a revised, shortened questionnaire – applications are now open!
The annual AmCham CARES program is an opportunity for companies to benchmark their corporate social responsibility (CSR) efforts, share innovative best practices, and inspire improvement in their existing CSR programs. 
Recognition as an AmCham CARES award recipient is evaluated based on four main elements – Communications, Measurement, Strategy, and Sustainability – which assess the effectiveness and impact of our member companies' CSR programs. 
Demonstrate your commitment to creating long-term economic and social value in Singapore through responsible and sustainable business operations. This is your chance to stand out as a leader in CSR! 
Submit your application for AmCham CARES 2023 now! 
Successful applicants will be notified on a rolling basis, with priority to reserve corporate tables at our Annual General Meeting for the award ceremony. Tables are reserved on a first come, first served basis. 
For MNCs (>50 employees worldwide) | For SMEs (<50 employees worldwide) 
Applications will close at 6:00 PM on Friday, March 10, 2023. To qualify for the award, please submit your application via Qualtrics. The PDF links below are for reference only. 
MNC Questionnaire | SME Questionnaire 
Please reach out to the AmCham Special Projects Team at sp@amcham.com.sg for any queries. 
We look forward to receiving your application!