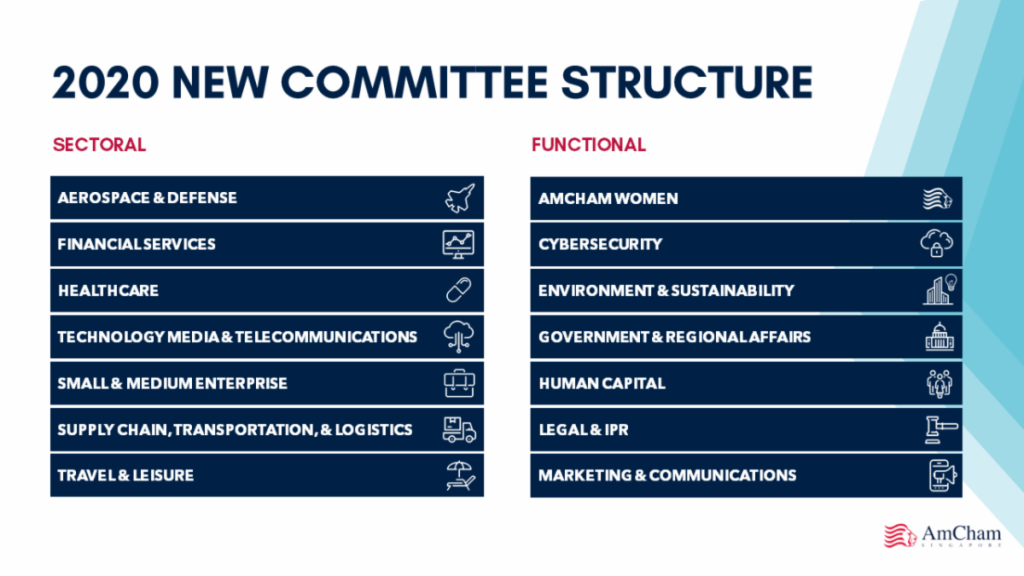 Dear AmCham Members,
AmCham Committees are the heart of our organization. Our Committees drive the Chamber's thought leadership, contribute to impactful programming, and ensure AmCham is at the forefront of current trends and events. They are also the foundation to our three strategic pillars – Advocacy, Insights, and Connections.
To better serve the needs of our members and reflect the changing business landscape, AmCham is updating our committee structure. We are excited to announce the following:
Committees are now organized into two categories – Sectorial and Functional.

Sectoral Committees capture key industry sectors while Functional Committees capture key functions that are relevant across all industries. Please see the graphic below for the updated committee restructure.
The Cybersecurity Subcommittee is a now a full committee.

Cybersecurity is critical in an increasingly digital world, and a top priority for business and governments. The increased engagement and activity under the Cybersecurity Subcommittee indicated a clear need for a full committee on cybersecurity matters.

An Environment & Sustainability Committee has been created and is inclusive of the Built Environment and Energy Committees.

Sustainability is an urgent social, environmental and government concern. The creation of the Environment & Sustainability Committee reflects the closely intertwined issues and partnerships between the built environment and energy sectors.

The Technology & Digital Innovation Committee has been re-named the Technology Media & Telecommunications (TMT) Committee.
The AmCham Women taskforce has been made a full committee.

The growth and success of AmCham Women is a clear signal of the immense importance of gender diversity and equality in business and to our members. Elevating AmCham Women to a full committee will enable the Chamber to take a wider and more strategic approach in advancing women leaders in business in Singapore and the region.
We would also like to take this opportunity to announce the Co-Chair seats that are currently open or will soon be opening for nominations. If you are interested in learning more about being a Co-Chair and the nomination process, please contact Sagarika Senapaty, Head of Programs by Friday, August 14, 2020.
AmCham Women – 4 seats open now
Cybersecurity – 1 seat open now
Human Capital – 1 seat opens in November 2020
Legal & IPR – 1 seat open now
Marketing & Communications – 1 seat open now
Supply Chain, Transportation & Logistics – 1 seat open now, 2 additional seats open in September 2020
Travel & Leisure – 1 seat open now
One of our committee goals in 2020-21 will be to develop "point of view" papers that reflect the needs of the sectors and functions represented and shape our advocacy strategy on our members' behalf – helping to inform both the U.S. and Singapore governments. Our Mission to represent the voice of the American business community is only made possible with our members' active engagement and input with the Committees.
Thank you for your continued support and commitment to our Committees.
Dr. Hsien-Hsien Lei
Chief Executive Officer
The American Chamber of Commerce in Singapore