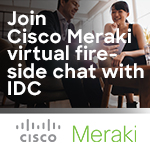 Last year, Asia Pacific was positioning itself as the fifth largest economy in the world, growing at a steady rate of 6% per year. But 2020 threw a curveball in the form of a global pandemic—borders were shut, economies slowed down, and life as we knew it took a different turn.
As businesses have adapted in recent months with more distributed employees and a focus on enabling a digital workplace, safety has been maintained. Now, there are almost five times more people working remotely compared to before, and this number is expected to rise with more organisations embracing a hybrid workforce. Given these changes in how we work, what are some of the emerging workplace trends we expect to see grow in the Asia Pacific market?
Read more here.
————————————————————————————————————
Cisco Meraki invites AmCham members to join a virtual fireside chat with IDC Research Director Dr. William Lee for exclusive access to the latest IT trends on 3 March 2021 at 2pm SGT.
Learn how businesses like yours can re-think digital transformation in order to be resilient and agile, thrive with new opportunities and higher performances.
Register here.