Ministry of Manpower Latest News

Highlighted updates
Requirements for Safe Management Measures at the Workplace [New 24 Mar]
From working from home to be more flexible, hybrid way of working 
75% of employees can be at workplace
Social and recreational gatherings of up to 8 persons may resume
Split team arrangements and time limit for employees at workplaces lifted
Employers to remain vigilant 
Continue to implement SMMs
Adhere to safe distancing and capacity limits for events; avoid holding events over mealtimes
Updated measures take effect 5 Apr, enforcement action will be taken against non-compliant employers.
[For more details: https://www.mom.gov.sg/covid-19/requirements-for-safe-management-measures]
First SGUnited Jobs and Skills Placement Partner appointed to provide specialised assistance to local jobseekers [New 22 Mar]
Adecco Personnel Pte Ltd, an employment agency (EA) is appointed as the first SGUnited Jobs and Skills Placement Partner
Local jobseekers will now have an additional avenue to access professional career matching services and opportunities
Initiative complements the Government's existing job matching efforts and augments overall placement capacity
Selected EAs that have demonstrated the ability to hire fairly will be appointed as Placement Partners
Appointed Placement Partners will receive fees for the placement of mature jobseekers, long-term unemployed jobseekers, or persons with disabilities into qualifying jobs, traineeships, and attachments.
[For more details: https://www.sgpc.gov.sg/media_releases/mom/press_release/P-20210322-1?authkey=a53f2292-01d2-4803-9dbf-24685b0d194b]
Greater Vigilance Needed with Workplace Injury Rate Returning to Pre-COVID Levels in Late 2020 [New 19 Mar]
Total number of workplace injuries for 2020 fell by 18% and workplace fatalities reduced
Lower number of injuries in 2020 due to Covid-19 work stoppages
However, the number of workplace injuries reverted to pre-COVID levels by the fourth quarter of 2020
Leading causes continue to be 'Falls From Height' and 'Vehicular incidents'
Contributed to 40% of all fatal workplace accidents last year
Slips, Trips and Falls (STF) and Machinery Incidents remained the leading causes of non-fatal injuries
Contributing to nearly 50% of all major injuries last year
Construction remains top contributor despite work stoppages, Manufacturing a growing area of concern
MOM urges companies not to neglect WSH while balancing project schedules and manpower constraints.
[For more details: https://www.mom.gov.sg/newsroom/press-releases/2021/0319-wsh-report-2020][WSH Report 2020: https://www.mom.gov.sg/-/media/mom/documents/press-releases/2021/0319-annex-a—workplace-safety-and-health-report-2020.pdf]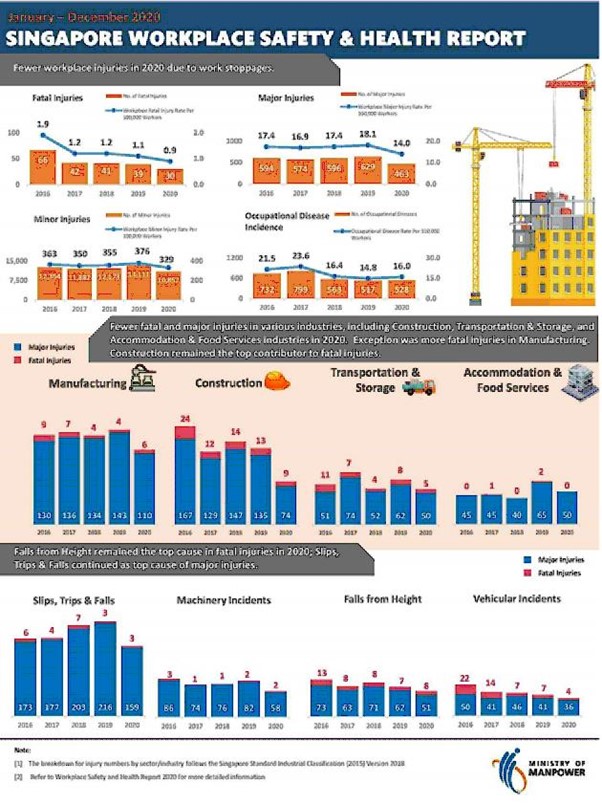 Queries on Covid-related matters
Refer to MOM's FAQs: www.mom.gov.sg/covid-19/frequently-asked-questions
For advice on further queries, contact MOM through online form here: www.mom.gov.sg/feedback