Highlighted updates
MOM Facebook Page: Fake email titled "MOM Flu Vaccine Registration – Change in Appointment Details" [New 16 Jan]
We have been alerted of a fake email purportedly from MOM's Assurance, Care and Engagement (ACE) Group.
The email claimed that a new vaccination date is now available for the email recipient, and the recipient may download the attachment to see the details of the vaccination.
Members of public who received the email are advised not to respond, download the attachments or click on any links.
Members of public who have been affected by the scam are advised to lodge police reports.
[For more details: https://m.facebook.com/sgministryofmanpower/photos/a.886263714756230/3629499527099288/?type=3&source=48 ]
Screenshot of the scam email: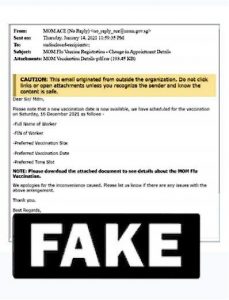 On-Arrival Tests for Newly Arrived Foreign Workers from Construction, Marine and Process sectors [New 16 Jan]
Multi-Ministry Taskforce (MTF) has mandated that newly arrived work permit and S pass holders from the Construction, Marine and Process (CMP) sectors from higher-risk countries/regions, to take an On-Arrival Polymerase Chain Reaction (PCR) test and an On-Arrival Serology Test on arrival in Singapore from 18 January 2021.
Recovered workers will be exempted from the Stay-Home Notice (SHN), additional 7-day testing regime, and Rostered Routine Testing (RRT) requirements.
This can help to minimise work disruption and associated costs from the SHN and tests.
The cost of the new On-Arrival Tests will be borne by the employers.
[For more details: https://www.mom.gov.sg/newsroom/press-releases/2021/0116-on-arrival-tests-for-newly-arrived-foreign-workers-from-cmp-sectors]